Lychakiv cemetery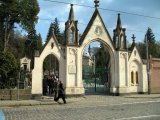 Lychakiv cemetery is one of the oldest in Europe. It was founded in 1786. It is a real necropolis museum. Here on the area of ​​40 hectares are more than 3,000 gravestones, most of them are historical and cultural monuments.

In cemetery burials is reflected the history of Galicia the history of Galicia. It has been created by the representatives of Ukrainian, Polish, Austrian, Russian, Armenian and other nationalities.

On 86 fields buried prominent pablic leaders, historians, politicians, writers, composers, singers, including Ivan Franko, Markiyan Shashkevych, Solomiya Krushelnytska, Kos Anatolsky, Stanislav Lyudkevych, Volodymyr Ivasyuk, Ivan Krypiakevych, Ivan Trush, Iryna Vilde, Anton Monasturskiy, families: Kolessa, Barvinky, Habriela Zapolska, Maria Konopnitska, Karol Szajnocha, Artur Grottger, Juliusz Ordon, Stanislav Szczepanowski, Stephan Banach and many others. There are several war memorials, including the UPA and the Polish Memorial.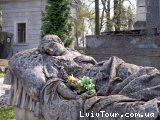 In the "Field of Mars" buried almost 15,000 people, who died in the First World War. There is a burial of Sich Riflemen (November 1918), victims of the NKVD (1941), soviet soldiers division of the NKVD (1940-50).

There are more than two thousand graves, 500 sculptures, chapels. All of them have artistic value. They were created by the famous sculptors such as Hartman Witwer, Anton Schimser, Paul Evtelye, Parys Filippi, Monardo Marconi and others.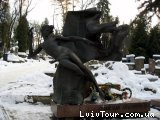 The cemetery was given the status of Historical and Cultural Reserve in 1990.

This cemetery stores the history of several generations of Lviv and these stories we have to tell you.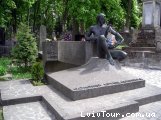 | | |
| --- | --- |
| Number of persons | The cost for a group tour, UAH |
| 1-5 persons | 350,00 |
| 6-10 persons | 410,00 |
| 11-15 persons | 470,00 |
| 16-20 persons | 530,00 |
| 21-25 persons | 590,00 |

The excursion duration is 2 hours 30 minutes.
The displayed prices for a tour from the group.
Price does not include tickets.
Ticket to the Luchakiv cemetery for adult — 20 UAH per person, for children — 10,00 UAH per person.




You can make reservation by calling:

(+38 032) 247 54 51

(+38 067) 672 18 33

Our working hours are 09:00 till 20:00, Monday to Saturday

Or you can submit online reservation request for booking excursion "Lychakiv cemetery"




Sightseeing excursion

Austrian Lviv

Churches of Lviv

Romantic Lviv

Lychakiv cemetery

name en

name en
Detailed interactive map of Lviv.