Sightseeing excursion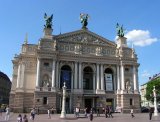 You will go places where were almost all Polish kings and emperors of Austria. In Lviv performed maestro Paganini. Нere were count Cagliostro and Giacomo Casanova.

The route of "Sightseeing excursion" passes through the streets of the ancient city: the famous Rynok Square, the central avenues of the city and other beautiful architectural monuments.

Wandering the streets of the medieval city you will visit:



The Bernardine monastery-fortress;


The Royal and city arsenals;


The Armenian and Jewish urban district;


The main church of Armenians of Ukraine;


The Church of Transfiguration (the first Greek Catholic Church of modernity);


People's House is the place where West Ukrainian People's Republic was proclaimed;


The Ensemble of the Assumption Church was the center of Orthodoxy Ukraine in the XVI - XVII century. It is a place where was ordained Metropolitan Petro Mohyla. The ensemble of the church includes: Chapel of Three Hierarchs, Assumption Church, Korniakt Tower;


The Archcathedral Basilica of the Assumption of the Blessed Virgin Mary is the main Catholic church in Ukraine. The Cathedral with unique chapels is the monument of Gothic church in Ukraine;


The Dominican monastery with the church of Holy Eucharist and Museum of Religion.



Rynok Square is the center of the medieval city.


Sightseeing excursion

Austrian Lviv

Churches of Lviv

Romantic Lviv

Lychakiv cemetery

name en

name en
Detailed interactive map of Lviv.