Churches of Lviv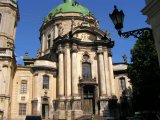 The beauty of Lviv attractions of the sacred art captures by their grandeur.

During the tour "Churches of Lviv" you can visit three main centers of believers: Orthodox, Greek Catholics and Armenians. Your tour includes an overview of an architectural ensemble of St. George which is Ukrainian baroque pearl; Church of St. Onuphrius, where were published the first Ukrainian printed book "The Apostle" and "ABC book" by Ivan Fedorov and many others interesting churches of the city.

The main churches of Lviv:


The main Catholic church in Ukraine (The Archcathedral Basilica of the Assumption of the Blessed Virgin Mary, is the only monument of Gothic church in Ukraine, preserved to this day since the XIV century);


The main church of Armenians of Ukraine (was built in 1363);


The main church of Greek Catholics in Ukraine (Church of St. George, the XVIII century).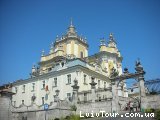 The most interesting temples of the city:
Leading Orthodox Church of Ukraine in the XVI-XVII centuries. It is a place where was ordained Metropolitan Petro Mohyla.
George Orthodox Church;
The Dominican monastery with the church of Holy Eucharist;
The Bernardine monastery-fortress (1630);
The Benedictine convent. Men Basilian Monastery of St.Onufriya;
The Monastery of Carmelites and Barefoot Carmelites;
The Jesuit Church of Sts. Peter and Paul;
The hold funeral chapel of Lviv patricians Boim and Kampians (the XVII centuries);
Religious themes in sculpture of Lviv;
The figure of the Mother of God on the main street of the city.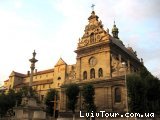 Additionally you can visit in Lviv:
The museum of Religion (representing all major religious in Ukraine: Orthodoxy, Catholicism, Adapted, Judaism, Islam);
Museum of ecclesiastical wooden sculpture Johan Pinsel (mysterious master of the XVIII century).
The Carpathian wooden churches of Lemkos and Boiko in the museum of wooden architecture under the open area.
Additional you can visit outside the city:
Monastery-fortresses near the city: Zhovkivsky, Krehivskyy, Stradchanskyy.
| | |
| --- | --- |
| Number of persons | The cost for a group tour, UAH |
| 1-5 persons | 350,00 |
| 6-10 persons | 410,00 |
| 11-15 persons | 470,00 |
| 16-20 persons | 530,00 |
| 21-25 persons | 590,00 |

The excursion duration is 2 hours 30 minutes.
The displayed prices for a tour from the group.

Additional payment are tickets: to the Archcathedral Basilica of the Assumption of the Blessed Virgin Mary - 2UAH per person, Chapel of Boim and Kampians - 3UAH per person.
Payment for the tour of the museums - 50.00 UAH/group (optional).




You can make reservation by calling:

(+38 032) 247 54 51

(+38 067) 672 18 33

Our working hours are 09:00 till 20:00, Monday to Saturday

Or you can submit online reservation request for booking excursion "Churches of Lviv"




Sightseeing excursion

Austrian Lviv

Churches of Lviv

Romantic Lviv

Lychakiv cemetery

name en

name en
Detailed interactive map of Lviv.